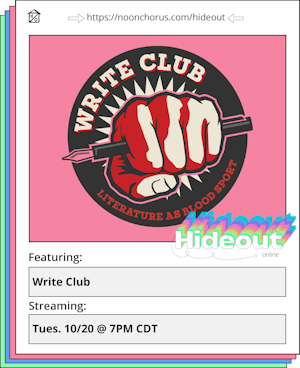 7PM CDT | $10
Once again we enter a moment of fear and malevolence. A chill wind whistles through your bones. Ugly, shambling ghouls wander the streets sowing terror, waiting to inflict mischief upon those who refuse to give them what they want. And a few days before that, there's Halloween.
By now you have had more than your fill of empty slogans and word salad. Fortunately, you still have Write Club -- your monthly overdose of frightening, five-minute competitive prose prowess.
This month, six contenders as sharp as carving knives offer competing essays as fierce as werewolves:
TRICK (Tien Tran) v TREAT (Ricky Harris)
FLESH (Diego Colón) v BONE (Michael Turrentine)
FIGHT (Myke Johns) v FLIGHT (Corrbette Pasko)
The hosts are live, the combatants are recorded, and the audience is safe at home. It's Virtual Write Club, so dress as scary or as sexy as you want -- and wear your damn masks.
Remember, you can ONLY view this one on Hideout Inn's new streaming platform. So head over and get your tickets now.
Sponsored by BlūLīn IT, Inc
http://www.writeclubnation.com/
WRITE CLUB is the world's greatest competitive reading series, featuring only the most audacious and fearsome of writers and performers. It's Live Lit at its most vibrant and visceral.
Venue Information: