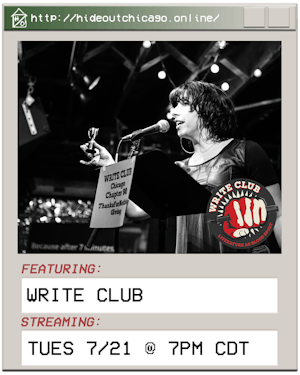 7PM | $10 suggested donation (split 80/20 with Hideout and show)
watch LIVE at https://www.facebook.com/hideoutchicago/live
Ohhhh. Right. Ok.
So the pandemic is raging and America refuses to mask up, we're sending our kids into buildings without distance and often soap, the president just had an interview where he drooled about less testing for an hour or so, people have forgotten to keep donating and protesting while Black lives remain at risk, and now we have a national park called Yo Semite.
You take ONE NAP...
Looks like we need another Write Club Quarantine. Let's get the femmes out here in force. This is dire.
We're back, we're in your house, and we have a lineup of straight word killers. Let the slaughter begin.
The show happens though Hideout Inn's streaming prowess in the safety and comfort of your home, so as to make you delightfully uncomfortable while facing the gritty, gorgeously-told truth by our combatants. And the drinks are free.
There is a $10 suggested donation for tickets, but you pay whatever you can, friend. If you can kick some more to our combatants, who are working tirelessly for your entertainment, all the better. We will tell you how to do that during the show. They will still be competing for cash and a mailed Loving Cup of Deathless F*cking Glory. Because we will not deny them their moment. This is, as always, sponsored by BlūLīn IT, Inc, and thank goodness.
Amy Eaton (PASS) v. Carmenita Peoples (FAIL)
Himabindu Poroori (RISK) v. Shariba Rivers (REWARD)
Harmony France (MASK) v. Jasmine Davila (SHIELD)
Tue, August 18, 2020 7:00 PM
Each of our combatants only have FOUR minutes instead of seven so you can go back to pretending you had stuff to do.
Corrbette Pasko is at the helm while Josh Zagoren tries to see if Clippy will return. And if he can stop swearing so much. Jesus, Clippy.
Clear your calendar. Reserve your couch. It's time.
WRITE CLUB - "Best Literary Event," 2013 Chicago Reader Poll; "Best Live Reading Series," 2013 Chicago Magazine's Best of Chicago, "Top Five of Everything," 2013 New City Year-End Issue, "Best Live Lit Event" - Audience Choice, 2014 New City Best of Chicago
WRITE CLUB IS:
3 BOUTS OF
2 OPPOSING WRITERS/2 OPPOSING IDEAS (ASSIGNED IN ADVANCE)
4 MINUTES APIECE (for the internet)
AUDIENCE PICKS A WINNER
CUT OF PROCEEDS TO CHARITIES OF THE WINNERS' CHOOSING
"The punchiest thing to hit literature since Hemingway"
— Chicago Reader
Venue Information: