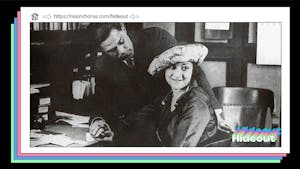 Homeroom Chicago Presents
Within Our Gates + score by Paul Giallorenzo
,
7PM | $10
Join us for a re-screening of the silent film Within Our Gates (1920) by Oscar Devereaux Micheaux. This film was originally presented by Comfort Station, Hyde Park Art Center, and Homeroom as part of Comfort Station's Silent Films and Loud Music Series in 2017, with a live score by Chicago composer Paul Giallorenzo with Ben Lamar Gay.
On the occasion of the 100th anniversary of this film, we are presenting the film with Giallorenzo and Lamar Gay's score, recorded during a live screening at Elastic Arts in 2018. This screening will be introduced by Floyd Webb, curator of Black World Cinema, followed by a conversation with Webb, Giallorenzo, and Lamar Gay.
About Within Our Gates
Within Our Gates (drama/black & white ‧ 1h 19m) tells the story of kindly Sylvia Landry (Flo Clements), who takes a fundraising trip to Boston in hopes of collecting $5,000 to keep a Southern school for impoverished black children open to the public. She then meets the warmhearted Dr. Vivian (William Smith), who falls in love with Sylvia and travels with her back to the South. There, Dr. Vivian learns about Sylvia's shocking, tragic past and realizes that racism has changed her life forever.
Oscar Devereaux Micheaux, an author, film director and independent producer of more than 44 films, is regarded as the first major African-American feature filmmaker.
Venue Information: