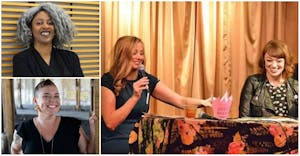 The Girl Talk: GTFO of Our Uteruses 2020 Edition
Hideout Inn
Chicago
,
IL
6PM DOORS | 6:30PM SHOW | 21+
It's the 47th anniversary of Roe vs. Wade, and things are looking bleaker than ever. With Brett Kavanaugh fully settled into the Supreme Court and Trump loading up other lifetime federal judicial posts all over the country, access to safe abortion and other reproductive healthcare is in serious peril — even if Trump loses in November.
This month, we're asking two of our local reproductive justice leaders for guidance on how to keep up the fight from here as our rights fall prey to Republican-controlled state legislatures and federal judges in other states. With Illinois as a blue island in a sea of states that have clamped down on abortion access, how can we help support folks flocking here for healthcare? And what could the future hold if Brett and his fellow douchebag frat boys are able to overturn Roe once and for all?
Plus, as a respite from this terrifying anti-choice timeline, it's the first show of 2020! We'll toast the new year and share resolutions/hopes/astrological alignments as we dive into 2020. Join us!
--- Our Guests ---
MEGAN JEYIFO, Executive Director, Chicago Abortion Fund
Megan (she/her) began her role as the Executive Director of the Chicago Abortion Fund (CAF) in June of 2019. She has served in various capacities for CAF, as helpline volunteer, helpline coordinator, and board co-chair. Megan is an abortion storyteller with We Testify, a development program dedicated to increasing the spectrum of abortion storytellers in the public sphere and shifting the way the media understands the context and complexity of accessing abortion care. She is a founding member of the Studio Eight collective, a team of creatives that believes communities thrive when all individuals have access to an ecology of culture, arts, and wellness. Megan lives on the south side and is the proud mama of twins who are four years old.
DR. SEKILE NZINGA-JOHNSON, PhD, MSW
Sekile Nzinga-Johnson, PhD, MSW received her PhD from the University of Maryland in Human Development (2001), her Masters of Social Work from Ohio State University (1994), and her Bachelor's of Science in Social Work from Morgan State University (1993).
Nzinga-Johnson previously was a tenured Associate Professor of Social Work and is the founding director of Nazareth College's Women and Gender Studies Bachelor of Arts program. Her scholarship and prior teaching have centered on the intersections of race, class, and gender in reproduction and parenting; critical feminist university studies; and child welfare & family policy. She is the editor of Laboring Positions: Black Women, Mothering and the Academy (Demeter, 2013) and her second book manuscript Lean Semesters: The University as Hyper Producer of Inequity is under review with Johns Hopkins University Press.
In addition to her academic career, Nzinga-Johnson's social work practice and community engaged work have focused on Black women's and girls' health and mental health, reproductive justice, healing from sexual trauma, program development & evaluation, and intersectional feminist leadership. She also serves as a board member for the Chicago Abortion Fund and is a member of the Illinois' statewide Women's Justice Taskforce.
The Girl Talk

The Girl Talk is a monthly show on the fourth Tuesday of the month hosted by Block Club Chicago co-founder Jen Sabella and public education activist and former CPS teacher Erika Wozniak Francis. It's produced by media strategist Joanna Klonsky. Each month, we feature influential Chicago women and gender nonconforming individuals fighting for social justice. Of course, all are welcome.

Venue Information:
Hideout Inn
1354 W. Wabansia Ave.
Chicago, IL, 60642