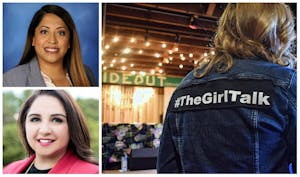 6PM DOORS | 6:30PM SHOW | 21+
This month, we're talking to two Latinx Chicago women fighting hard for progressive values in Springfield — and already seeing results from some groundbreaking legislation and widely earning the respect of their colleagues. State Reps. Delia Ramirez and Celina Villanueva have been showing up in a big way downstate, fighting for education equity, immigrant rights, voting access and empowering young people of color. Both women started off as organizers so we are putting them on stage together to learn from their experience and help us understand more deeply their work.
Jen is out again this month (Libra season is busy, y'all) but Joanna will take the stage with Erika for this important conversation.
OUR GUESTS
Delia Ramirez
Delia Ramirez is an accomplished social service director, community leader, and coalition builder who has dedicated much of her life and career to the Humboldt Park and Logan Square communities. On March 2018, as a first-time candidate, Delia was elected the Democratic nominee of Illinois' 4th house district and is the first Guatemalan American in the state legislature.
A daughter of Guatemalan immigrants, Delia resides on the same block where she grew up. As a graduate of Sabin Magnet Elementary school in the eastern part of the 4th district and Northeastern University, Delia recognizes the importance of public education and is committed to fighting for high quality, equitable education for all our children.
In 2004, at only 21 years old, Delia became the Executive Director of Humboldt Park Social Services, now the Center for Changing Lives. During Delia's tenure, the agency served more than 4,500 households and quadrupled the budget expanding its supportive services to become a city-wide organization nationally recognized for its innovative work on housing and financial stability programs.
Delia has served as the Board president of Logan Square Neighborhood Association, District Advisory Chair of the 14th District Police Department, Co-founder of the Chicago Justice for our Neighbors Free Immigration Clinic, and currently serves as the President of LUCHA, a community development and affordable housing organization in the district.
Delia has been a leader in neighborhood and city-wide coalitions for balanced neighborhood development, an elected school board, the Fight for 15, and Automatic Voter Registration. Her work has been recognized through several awards including the 2007 Community Renewal Society 35 under 35 leadership award, The National Hispanic Plan's 2011 Leader for Change Award, an Emerging Fellow of The Chicago Community Trust in 2013, and La Raza's Community Leader award in 2013.
Up until December 2017, Delia served as Deputy Director of the Community Renewal Society, Chicago's oldest faith-based social justice organization, where she oversaw the development, organizing and policy units. Under her leadership, CRS helped pass several bills that remove barriers to employment for people with records. Additionally, she led a process that culminated in a three-year strategic plan for the Chicago area faith-based organization.
In her first year as a state legislator she passed seven pieces of legislation ranging from expansion of homeless prevention to legislation reforming the department of children and family services and removing barriers to licensing for immigrant communities. As a leader in the progressive caucus in the House of Representatives, she is leading the housing taskforce looking at comprehensive state policy to housing stability.
Delia has demonstrated throughout her life both personally and professionally, the ability to build relationships across broad demographics and unite diverse stakeholders for a common good. She is a proven leader with deep roots in her community.
Celina Villanueva
Born in Chicago and raised in Little Village, Celina Villanueva is currently the State Representative of the 21st district. Formerly Civic and Youth Engagement Manager at the Illinois Coalition for Immigrant and Refugee Rights. With a focus on building immigrant power, developing leaders and expanding voting rights, Celina tied in her background in organizing, civic engagement and youth development to engage immigrant communities and allies throughout Illinois into the various campaigns at ICIRR.
With various wins under her belt, Celina has helped to expand voting rights through her efforts on Online Voter Registration, Election Day Registration, and most recently Automatic Voter Registration, all of which are now the law in the land of Lincoln. Additionally, Celina lead the largest immigrant civic engagement program in Illinois that has registered over 200,000 new American voters and mobilized hundreds of thousands more to get out to vote.
Prior to joining ICIRR, Celina served as the Director of Organizing at Chicago Votes, as well as working on various issue-based campaigns including the fight for Marriage Equality in Illinois. She also previously served as Outreach Coordinator for Cook County Commissioner Jesus "Chuy" Garcia, a role that superseded her work on various state and local electoral campaigns.
When she's not busy trying to change the world into a place where we can all live openly and safely, Celina is an avid reader, lover of musicals, shopping, dancing and a great brunch.
Celina a born and bred Chicago girl, graduated with a B.A in Latina/Latino Studies with minors in African-American Studies and Spanish from the University of Illinois at Urbana-Champaign.
The Girl Talk

The Girl Talk is a monthly show on the fourth Tuesday of the month hosted by Block Club Chicago co-founder Jen Sabella and public education activist and former CPS teacher Erika Wozniak Francis. It's produced by media strategist Joanna Klonsky. Each month, we feature influential Chicago women and gender nonconforming individuals fighting for social justice. Of course, all are welcome.

Venue Information:
Hideout Inn
1354 W. Wabansia Ave.
Chicago, IL, 60642