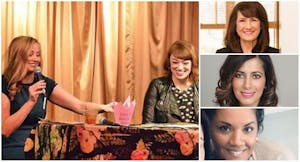 The Girl Talk: What If We Don't Want You In Our Tent? Election 2020 Edition
Hideout Inn
Chicago
,
IL
6PM DOORS | 6:30PM SHOW | 21+
As we collectively obsess about ousting Donald Trump and attempt to become expert pollsters ahead of the March primary, we can't forget about the local races that are frankly just as important.
This month, we welcome a candidate at the center of one of Illinois' most contentious contests: Marie Newman. Newman is working again to unseat longtime Rep. Dan Lipinski, a conservative Democrat who has the blind support of the Democratic establishment despite voting like any Trumpy would. Lipinski has voted to defund health clinics that offer abortion services, sought to ban abortions at 20 weeks and opposed the Affordable Care Act's mandate that health insurance cover birth control. He has also deservedly been our #DoucheOfTheMonth on numerous occasions because of his inability to get the f*** out of our uteruses.
Marie will be joined by her campaign chairwoman Shadin Maali and campaign volunteer and equality activist Hope Pickett. These women know what it takes to win a campaign — and we can't wait to learn about what we can do to get these terrible, terrible men out of office.
The Girl Talk is a monthly show on the fourth Tuesday of the month hosted by Block Club Chicago co-founder Jen Sabella and public education activist and former CPS teacher Erika Wozniak Francis. It's produced by media strategist Joanna Klonsky. Each month, we feature influential Chicago women and gender nonconforming individuals fighting for social justice. Of course, all are welcome.
The Hideout is wheelchair accessible and has accessible restrooms. To request other accommodations, please contact us at thegirltalkchi@gmail.com.
OUR GUESTS
Marie Newman
Marie Newman was born in Chicago's Beverly neighborhood, grew up in a union family in Palos Park and started her own small business while raising her family in La Grange. When one of her children was severely bullied in school, Marie founded a national non-profit program called Team Up To Stop Bullying to address the problem—ultimately expanding it nationwide. Marie is also the former Illinois spokeswoman for Illinois Moms Demand Action. She is running for Congress in Illinois' 3rd Congressional District because she believes Washington politicians aren't getting it done for families in Chicago and the southwest suburbs.
Shadin Maali
Shadin Maali is Marie Newman's campaign chairwoman and a longtime community organizer.
Hope Pickett
Hope Pickett is a campaign volunteer and was a United Working Families fellow. She helped Maria Hadden oust Joe Moore in the 49th Ward and worked on our very own Erika Wozniak's aldermanic campaign. Currently, she's working to get organizer Kina Collins elected to Congress in the 7th District.
The Girl Talk

The Girl Talk is a monthly show on the fourth Tuesday of the month hosted by Block Club Chicago co-founder Jen Sabella and public education activist and former CPS teacher Erika Wozniak Francis. It's produced by media strategist Joanna Klonsky. Each month, we feature influential Chicago women and gender nonconforming individuals fighting for social justice. Of course, all are welcome.

Venue Information:
Hideout Inn
1354 W. Wabansia Ave.
Chicago, IL, 60642