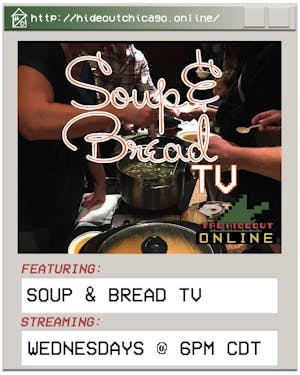 Soup & Bread TV: People Who Feed People
Won Kim of Kimski and Community Kitchen Chicago
,
6PM | $5 suggested donation (split 80/20 with Hideout and chosen charity)
watch LIVE at hideoutchicago.online
Soup & Bread TV: People Who Feed People
Writer, editor, and Soup & Bread founder Martha Bayne hosts conversations with folks on the front lines of food during the global health crisis. Hear from real people in Chicago and beyond about how they're handling feeding their families, neighbors, and communities during one of the most difficult times to do so. Plus: Recipes!
YOUR HOST: Martha Bayne
https://twitter.com/marthabayne
Martha Bayne is an independent writer and editor based in Chicago. She is the editor of several books including, most recently, the Chicago Neighborhood Guidebook, and the author of the Soup & Bread Cookbook: Building Community One Pot at a Time, a narrative cookbook drawn from the Soup & Bread community meal project she founded and has helped run at the Hideout since 2009. More at marthabayne.com.
THIS WEEK'S GUEST: Won Kim of Kimski and Community Kitchen Chicago
Venue Information: