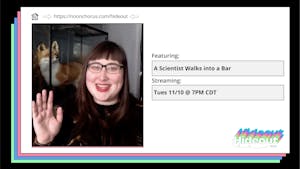 7PM CDT | $5
The Science of Soda
Thanksgiving might be a different affair during COVID, but that won't stop us from talking food for this November's A Scientist Walks into a Bar. On Tuesday, November 10th, we'll host Brittany Towers, Associate Principal Scientist at PepsiCo. Brittany helped develop and launch new drinks for Gatorade, and has worked on products for Naked Juice and Tropicana. We'll ask her about how PepsiCo goes about creating a brand new drink, the science behind getting just the right taste (and color!), and how she combines chemistry with culinary skills to make delicious drinks.
https://www.ascientistwalksintoabar.net/
Science writer Kate Golembiewski interviews scientists about their work. Lighthearted, eclectic, and exploring both the history of science and what's on the cutting edge, A Scientist Walks into a Bar is a place where adults can have a real conversation about what new research is changing the way we understand the world with a drink in hand. We cover everything from space, to dinosaurs, to mental health.
Venue Information: