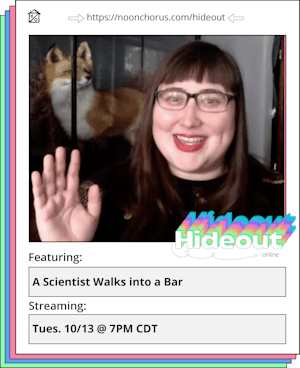 Scientist Walks into a Bar: The Psychology of Fear
,
$5.00
Sales Ended
On NoonChorus
7PM CDT | $5
The Psychology of Fear
For Halloween, we're tackling the scariest thing of all: fear itself. We'll be joined by Dr. Sam Cooper, a clinical psychology researcher at the University of Texas at Austin who specializes in fear and anxiety. We'll talk to Sam about the biological basis of fear, what goes on in your brain when you're scared, and how scientists study anxiety using video games and VR. Join us on Tuesday, October 13 at 7pm for a spooky, science-y evening!
https://www.ascientistwalksintoabar.net/
Science writer Kate Golembiewski interviews scientists about their work. Lighthearted, eclectic, and exploring both the history of science and what's on the cutting edge, A Scientist Walks into a Bar is a place where adults can have a real conversation about what new research is changing the way we understand the world with a drink in hand. We cover everything from space, to dinosaurs, to mental health.
Venue Information: