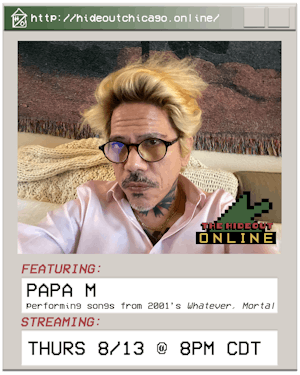 8PM CDT | $10 suggested "tip"
watch live at https://www.facebook.com/hideoutchicago/live
David Pajo is a musician from Louisville, KY who performs solo as Papa M (Drag City Records). He has recorded with Slint, Tortoise, Palace Brothers, Bonnie "Prince" Billy, King Kong, Dead Child, amongst others. He has been a touring band member of Stereolab, Royal Trux, Yeah Yeah Yeahs, and Interpol. On August 13, 2020 David Pajo will be performing songs from 2001's "Whatever, Mortal".
Venue Information: