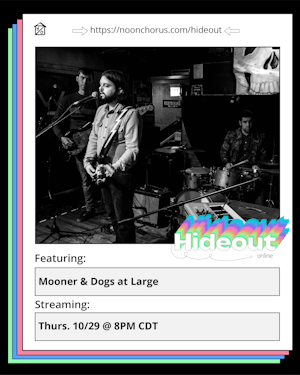 Mooner + Dogs at Large Record Release
,
8PM | $15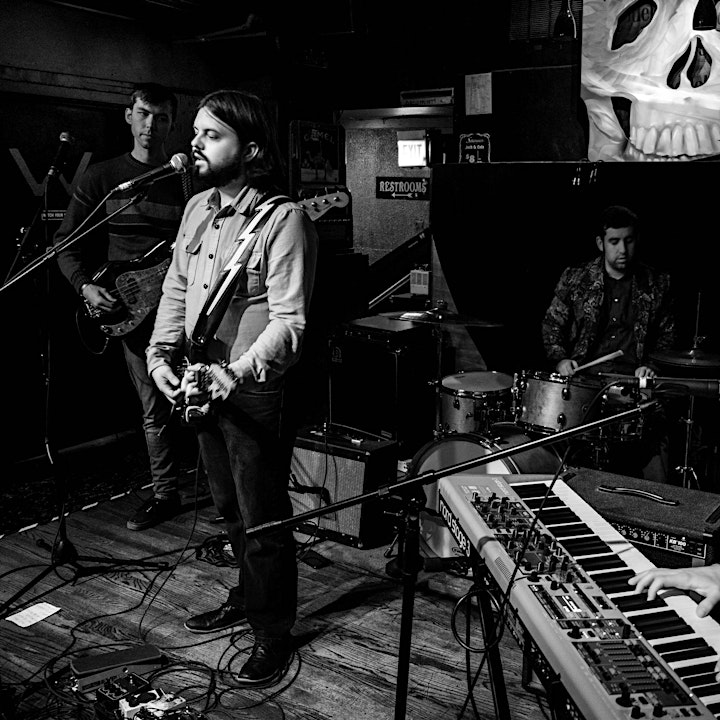 watch live at noonchorus.com/hideout
Mooner
For their third proper LP, the Chicago band Mooner move away from the raucous pop-rock of previous records and deliver a set of introspective tunes that delve further into lead singer/songwriter Lee Ketch's life and marriage. This focus is present in both the lyrics and the arrangements, and the band delivers a tight, straightforward performance throughout. Still, there are flourishes of distorted guitar and synth patches that alternately offer familiar ground and surprise the listener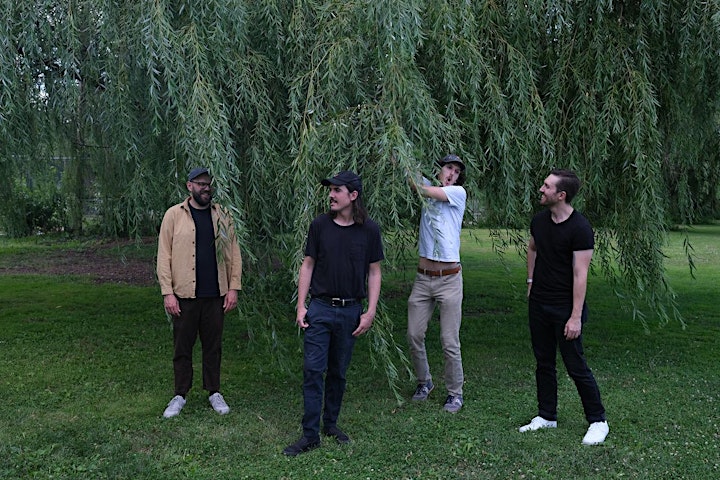 Dogs At Large
https://dogsatlarge.bandcamp.com/
What is irony?
Is it recording an album of songs specifically to capture the energy of your live performance, only to immediately stumble into a time where the future of live music performance itself is uncertain? Is it coming to the realization that the choices we have in our dystopian hyper-capitalist future are nothing but a series of empty disguises we wear to survive?
Dogs at Large have an answer: why not both? The band spent a good chunk of 2019 writing a set of cathartic songs dealing with the apocalyptic, blood-soaked bubble of colonial consumerism we find ourselves in modern America, and honing themselves into a raw force that they planned to capture on record and recreate in their live act throughout 2020. I think we all know how that turned out.
Pared back from the spacious cosmic folk of their previous record, Jeopardy injects a bit of the thorny guitar attack from their earlier work. In all honesty, they sound ready to JAM. On songs like "Break You Out" and "I Want to Know", they flex their psychedelic muscles on extended instrumental codas.
However, there's still quite a bit of the soft rock melodic treats we've come to expect from our Dogs. "How Fine" combines singer Sam Pirruccello's falsetto harmonies with alt-rock guitar drops in a way that faintly recalls The Bends era Radiohead.
Recorded at Russian Recording in Bloomington, Indiana - the studio that was home to the late, great internet cat Lil Bub - the band finished tracking with time left over to record a song they'd never played together before (the placid closer, Just a Feeling). This expeditious and professional workmanship is evident throughout the tight performances they were able to capture.
As always, Pirruccello's lyrics deliver a pointed and insightful bemusement at the general state of things with the comforting touch of an old friend, or maybe a long-lost cousin. His lyrical fixations are often modern and political, with songs touching on themes of climate change (Let Go), the imminent decline and and collapse of America (Just a Feeling), and Hillary Clinton (& So We've Seen), but they're always drawn into the universal through his careful invocation of complex narrators.
And so, we've arrived six months into a pandemic with no clear end in sight, and we've been given this record that fully captures the sound of a band that has become a live force to be reckoned with. Just close your eyes and picture yourself there.
Venue Information: