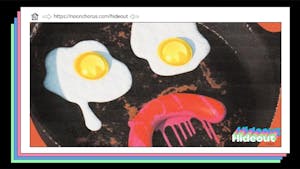 Late Late Breakfast
,
1PM PT/ 3PM CT/ 4PM ET | $10
LATE LATE BREAKFAST IS BACK FOR ONE WEIRD SATURDAY AFTERNOON TO SAY GOODBYE TO 2020!!!
Join your LA and Chicago hosts on December 5th at 1PM PT/ 3PM CT/ 4PM ET, streaming on noonchorus.com/hideout.
Through the magic of technology, we'll be back for our usual antics-- comedians from both Chicago and surprise out-of-town guests will be delivering their material while going up against virtual games and challenges, all around the theme of this crazy year. All proceeds will go to our beloved Chicago venue, The Hideout, to help keep them afloat until we can pie people in the face in person again. While you're watching, why not recreate the Hideout experience at home! Make pancakes! Sip on a Wooden Leg! Watch from your backyard on a picnic table! Plug in the string lights! Recreate the KINDNESS AND GOODNESS sign! Dry your hands on a towel that's been used by 5,000 other people (maybe not this one right now)!!! We can't wait to see you and laugh with you!
Venue Information: