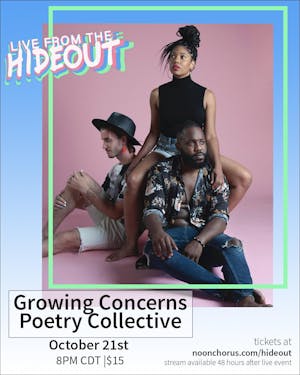 Growing Concerns Poetry Collective Live from the Hideout
,
$15.00
Sales Ended
On NoonChorus
8PM CDT | $15
Growing Concerns Poetry Collective
https://www.growingconcernspoets.com/
Growing Concerns Poetry Collective fuses lyrical, narrative, and hip-hop poetry with original music and soundscape to create performance that is greater than the sum of its parts. The collective began in January 2017 in an apartment above a flower shop in Chicago's Pilsen neighborhood. Within a year, they would perform at venues and with organizations across Chicago including NPR's Tiny Desk On The Road Tour and The Art Institute. In August 2017, the group released its inaugural album WE HERE: Thank You For Noticing. In January 2018, they published their first book, Five Fifths through Candor Arts.
BIG DARK BRIGHT FUTURES is the second studio album from the Chicago-based trio, following their 2017 debut WE HERE: Thank You for Noticing. Written and composed between 2017 and 2019, and rooted deeply in the contemporary Black American experience, the album invites listeners on an emotional, expansive, no-holds-barred journey through both the shadowed valleys and hopeful peaks of our current moment.
Influenced by Afrofuturism and the recent experimental work of artists like Solange and Frank Ocean, the album finds the common place between the personal and political as it explores the depth of social chaos while conjuring visions of collective transcendence.
True to their form, Growing Concerns leans into their signature marriage of music, soundscape, hip-hop, and poetry in a new album that harnesses anguish, celebration, protest, love, and radical vision to light a torch as we traverse a sea of darkness, not alone, but together.
In a time of necessary rubble and needful revolution, BIG DARK BRIGHT FUTURES asserts that There Are Black People In The Future, compels us toward collective action, and asks us to imagine a cascade of tomorrows that are not only bright, but brilliant.
"Growing Concerns Poetry Collective's new album takes the listener on an expansive sonic journey that's packaged in 14 fulfilling songs." — Afropunk
"As they're wont to do, the collective offers an anthem for the ages, meditating on a weathered America that's ripping at the seams from some much-needed change." — Consequence of Sound, on "Shout Across Mountains"
Venue Information: