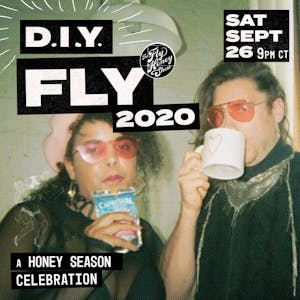 The FlyHoney Show + Hideout Present:
D.I.Y. FLY 2020
,
$10.00 - $25.00
Sales Ended
On Eventbrite
On September 26 at 9PM CST, The Fly Honeys invite you to tune-in for your DIY FLY 2020: A watch-party designed to hype up your home!
EVENT INFO
For over 10 years, The Fly Honey Show has celebrated body and sexual liberation by making space for Chicago's premiere queer, feminist, artistic visionaries to share in a communal joy-bomb of live performance, dance, music, and nightlife celebration where thousands of performers and audience members typically swarm close together, leaving artists and audiences feeling more alive and less alone with each new annual production.
The Fly Honeys evolve, responding to the needs of their growing Hive, and this moment is no different. It's Honey Season - a name born from the long-standing community that defines and upholds the show's culture to encompass the buzzing of the swarm, the hype, and social undercurrent surrounding the making, rehearsing, performing, and witnessing of the live show. Although COVID-19's shelter-in-place has upended life as we know it, this pause illuminates that Honey Season lives on in spite of everything - it's just taken a new form, in smaller, more private Hives, with a movement to the moment, and in incredibly individualized ways.
On September 26 at 9PM CST, The Fly Honeys invite you to tune-in for your D.I.Y. FLY 2020: A watch-party designed to hype up your home - filled with music, dance, visually-stunning live performance footage, and some Honey history to give folks something to tune into, get down on, and (safely) gather together around at home. Stay dialed-in for a post-show live stream DJ set to get the body moving.
While simultaneously distributing D.I.Y. FLY Kits, The Fly Honeys will be gathering donations of physical goods in support of Brave Space Alliance's donation pod program. The BSA pod program launched earlier this month to better serve the daily needs of their food pantries. It moves to rally groups of individuals who can gather funds and specifically requested supplies based on real-time updates and needs determined by program manager Jae Rice. The drive will take place during the D.I.Y. FLY Kit pick-up on September 26 between 12pm - 6pm at Land and Sea Dept.
However you Hive-up in quarantine, this D.I.Y. FLY night asks audience members to remember we are resilient when we rally together.
Contact us at contact@theinconvenience.org with questions or for more info!
This celebration is supported in part by generous donations by Do312, Fungi Media, Early-to-bed, Land and Sea Dept., and Emma Alamo.
Venue Information: