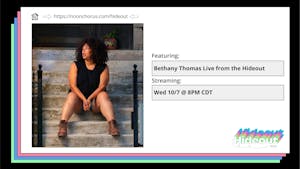 Bethany Thomas Live From the Hideout
,
8PM CDT | $15
watch live at noonchorus.com/hideout
Bethany Thomas will be performing live from the Hideout with her band playing material from her new release BT​/​She​/​Her. Live video by QAF productions.
http://www.bethanythomasmusic.com/
You may have heard Chicago singer/actor/songwriter Bethany Thomas somewhere... but was it on college rock radio or the classical music station? Was she singing with Robbie Fulks or Syl Johnson? With Tawny Newsome? The Mekons? Was it in a Gershwin opera? Was she fronting a Lou Reed tribute band? How bout playing Billie Holiday at a midwestern dinner theater? Perhaps it was with the Bloodshot Records via Muscle Shoals project Jon Langford's Four Lost Souls? Or maybe some drag show you ended up at one night.
Yes. These are all correct.
Bethany Thomas is a motherfucking shapeshifter and she's ready to unleash the sounds that only she can make. Live. For the first time in this brave new world. Join BT and her band of familiars- John Szymanski (Even In Blackouts, Jon Langford), Packy Lundholm (I Fight Dragons), Andrew Green (Twin Talk), and Patrick Martin, as they celebrate the release of her debut full-length album, BT/She/Her.
"BT/She/Her offers an even broader portrait of a singer-songwriter who has no intention of sticking to one lane. It results in a winning reintroduction to an artist whose talent seems boundless. The songs — from scorching rock numbers to thoughtful focused ballads — are personal and defiant and filled with surprising arrangements" -Chicago Sun-Times
"[Thomas'] show-stopping vocals hold together a mix of gritty classic rock, expansive psychedelia, and heartwarming doo-wop, flavored with a touch of funk and a healthy dash of musical theater." -Chicago Reader
*Hideout Online shows are subject to date change or even cancellation by causes of performer or production health concerns. Our primary objective is to keep performers and those working with the Hideout safe during this time. Thank you for your understanding.
Venue Information: