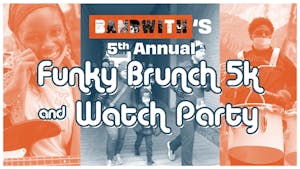 BandWith's 5th Annual Funky Brunch 5k & Watch Party
,
$1.00 - $100.00
Sales Ended
On Give Lively
10AM | Donations Welcome!
This year's Funky Brunch may look a little different, but who says we can't get down?! On November 7th, the Hideout Chicago will be streaming performances from BandWith All Star Band and other students from the program, while local runs and watch parties take place throughout the country. Help support us by joining in the fun and donating if you can.
BandWith is a Chicago-based, non-profit organization, whose mission is to positively affect the lives of youth from underserved Chicago communities by providing lasting access to various forms of exceptional musical instruction and ensemble play.
about the ALL-STAR BAND:
The All-Star Band offers students that have graduated from the elementary school program at LEARN to continue with music lessons and band. It also provides a special space for our older, exceptional musicians from our various programs to meet, rehearse and perform together as musical peers throughout the year.
Venue Information: